Hazelnut Avocado Mocha Chocolate Mousse – it's actually pretty good for you!
Image courtesy of kitchensanctuary
Avocado is so versatile as an ingredient, lots of things you can do with it, often don't come easily to mind.
So take this recipe, for example. A superb, lavish mousse with avocado, chocolate, and hazelnuts.
It's where you can mix'n'mingle, matching different culinary and cosmetic worlds, that this awesome super-fruit gives its best!
It's vicious, creamy and yummy. Plus you can alter the chocolate and sweetness level according to your own tastes (like 1 tbsp cocoa powder for breakfast,  3 tbsp as a dessert in the evening, and things like that).
You can't taste the avocado in the mousse, it just acts as a kind of creamy base on top of which you can add flavors. The banana adds a good chunk of sweetness, and the honey…oohh the honey, honey! 😉
Just takes it to the next level, dessert-wise. (If you are a dessert type, be sure to check out our last recipe here, too).
This Hazelnut Mocha Chocolate Mousse recipe it's more health-conscious than usual – with low-free Greek yogurt and raw cacao powder.
Image courtesy of kitchensanctuary
This mousse has the addition of coffee too –we LOVE coffee. Coffee and chocolate together? This is a proof of the existence of God! You can also decrease the amount of caffeine to a decaf if you don't well tolerate stimulants. Up to you. The taste is always delicious.
Chia puddings, matcha cookies, beetroot brownies? It probably wouldn't hurt to try them 🙂
Healthy foods can and should be mixed with others, guilty-ish elements, so you can enjoy your optimal lifestyle without compromising on your food-porn addiction.
If you like this avocado mousse, you can also try the other version with roasted cherries too: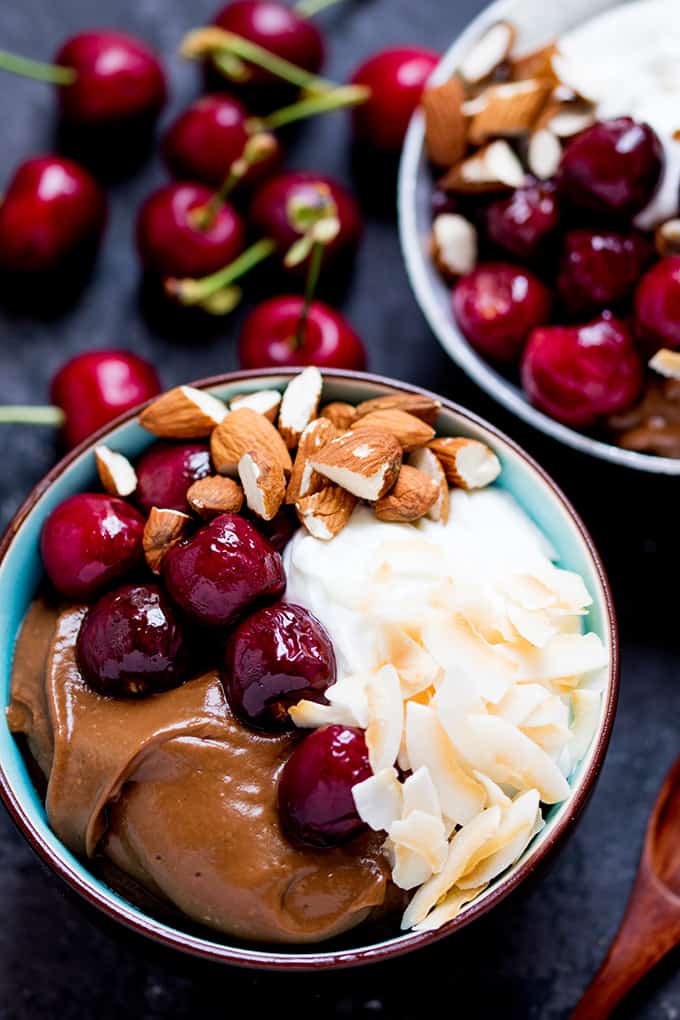 Hazelnut Mocha Chocolate Mousse
Hazelnut Mocha Chocolate Mousse – a gluten-free, lighter dessert, made with avocado, Greek yogurt, and banana. Creamy and sweet!
Instructions
Place the avocados, banana, hazelnut milk, vanilla bean paste, raw cacao, espresso, and honey into a food processor. Then blend until smooth and creamy.

Now, spoon or pipe the mixture into serving glasses. You can cover and chill at this point if making ahead.

When ready to serve, top the mousse with the Greek yogurt, and sprinkle on the chopped hazelnuts. Trickle on the grated chocolate and serve immediately.
Recipe Notes
*The riper the banana and avocados are, the sweeter and creamier this dessert will be.