THAI TUNA STUFFED AVOCADO
Thai food meets tuna in this healthy Thai-inspired tuna stuffed avocado.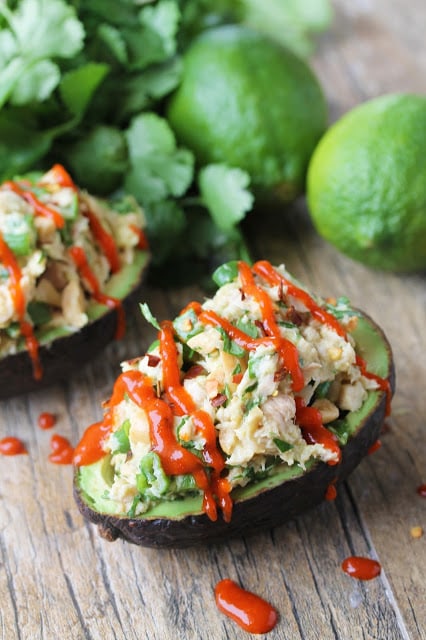 Tuna stuffed avocados! OMG!!! Delicious!
Thanks to Rachel from  https://thestayathomechef.com to bring this to our attention🙏🏻
No need for mayo in this tuna recipe! Healthy and tasty.
Pro Tip: use a high-quality tuna for this recipe.
Here you should flavor tuna with lime juice, soy sauce, and garlic.  Add in the cilantro, green onions, and chopped peanuts and you're ready to go. If you are feeling spicy add hot chili sauce. BAM!
HEALTHY THAI TUNA STUFFED AVOCADO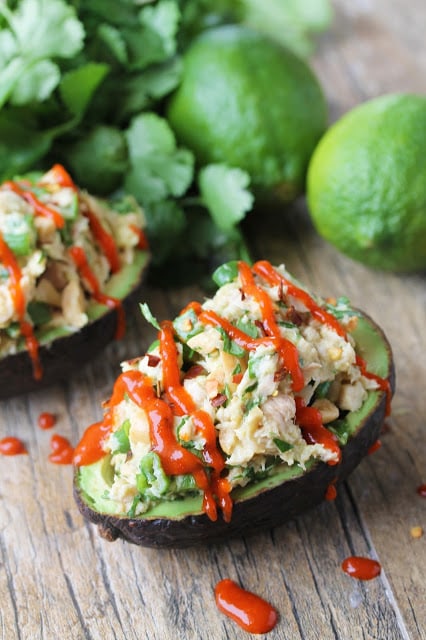 Ingredients
1 (12 oz) can Bumble Bee Solid White Albacore Tuna
2 avocados, halved and pitted
2 limes, juiced
2 teaspoons soy sauce
1 clove garlic, crushed
¼ cup chopped fresh cilantro
¼ cup sliced green onions
¼ cup chopped peanuts
¼ teaspoon red pepper flakes
2 teaspoons Asian hot chili sauce (optional)
Instructions
Use a spoon to hollow out the avocados, creating a bowl effect, leaving plenty of avocado to form edible bowl walls. Place scooped avocado into a mixing bowl and mash with a fork.
Drain tuna and place into mixing bowl with avocado. Add in lime juice, soy sauce, garlic, cilantro, green onions, peanuts, and red pepper flakes. Stir to combine.
Stuff into prepared avocado bowls.
Like spicy? Drizzle with hot chili sauce and serve.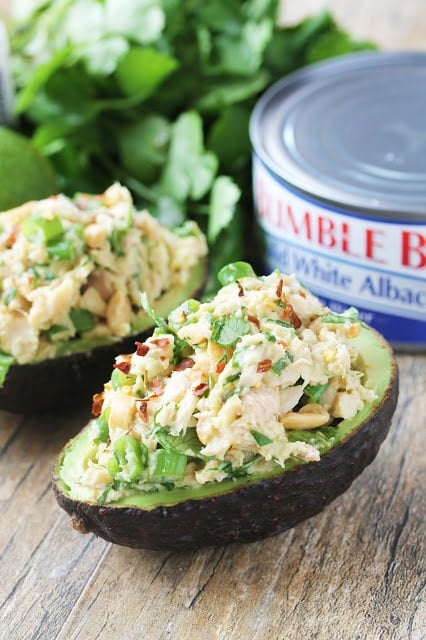 [widgets_on_pages id="2″]